About Dr. Sarver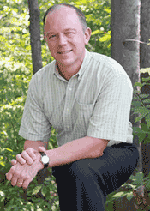 Keith Sarver, along with his two brothers and one sister, grew up in a small town in Iowa. His parents were natural health and chiropractic-oriented and at an early age, a desire to help others was instilled in him.
After serious reflection, Dr. Sarver knew that becoming a medical doctor would require drugs and surgery which he wanted to avoid. Therefore, in 1983 he started his undergraduate and graduate studies to become a Doctor of Chiropractic knowing this to be a more natural way of treatment. His studies focused on adjusting and nutrition through courses on Applied Kinesiology. He received his Doctor of Chiropractic degree from Logan College of Chiropractic in Chesterfield, Missouri and his license in 1990.
It was that same year, while visiting his brother in Michigan that Dr. Sarver felt this could be "home" for him, and he set up his practice here in Grand Rapids. In 1993 Dr. Sarver was certified in Contact Reflex Analysis and the focus of his practice has become Nutrition Response Testing. He continues to study nutritional healing and alternative therapies for the benefit of his patients, and has seen that nutritional supplements and diet are the primary means of creating health. He uses chiropractic to treat muscular and skeletal issues, as well.
Today Dr. Sarver is happily married and has been blessed with four healthy children.